Well, congrats. You discovered it. You get to name it.
Although this article is based on canonical information, the actual name of this subject is conjectural.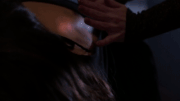 The Dark Medic Spell is a healing spell. This spell can be used to heal the target, no matter how severe the wound is, even it came from a mass-smiting event.
Rowena used it to heal The Darkness after the latter severely wounded by Heaven's mass-smiting. The spell itself uses the ancient Sumerian language, and is possibly from the Book of the Damned, due to this, it can be considered a dark spell.
Procedure
Edit
The user must prepare a concoction made from various liquors and smeared the concoction to their hands. An ancient Sumerian incantation must be recited before the healing commenced:
Mahday, eelohtah sahn.
Serloh, eelohtah.
The target will be immediately healed after the recitation.
Known Users
Edit
Appearances
Edit
Community content is available under
CC-BY-SA
unless otherwise noted.