"
No, there's been enough killing. Promise me. You're better than all of this.
"

— Colette's final words to Cain.
Colette Mullen
(1832 - 1863) was
Cain
's wife.
At some point around 1863 in Jasper Spring, Mississippi, Colette met Cain, and despite discovering what and who he was, she married him, on the grounds that he gave up his former life.
However, this union caused the Knights of Hell, whom Cain once led, to retaliate. They kidnapped Colette in an attempt to coerce Cain back into his old ways. Instead, Cain slaughtered all of the Knights in revenge. He also tried to kill Abaddon, who was possessing Colette, but the demon fled, causing Cain to fatally stab her. Though he wanted revenge on Abaddon, Colette made Cain promise not to do any more violence. In respect for his promise to her, Cain threw his weapon, the First Blade, into the bottom of the ocean, and effectively kept out of any supernatural matters.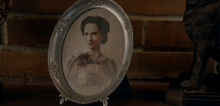 Over 150 years later, Cain visited her grave to ask for her forgiveness and to stop watching over him as he was going to return to his old ways to help Dean Winchester and Crowley.
Appearances
Edit
Community content is available under
CC-BY-SA
unless otherwise noted.