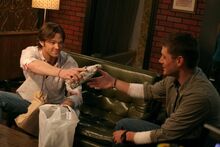 Christmas, formerly known as The Winter Solstice Festival, was originally a Pagan celebration. However it was co-opted by the church and renamed Christmas. After said renaming, it became an annual festival commemorating the birth of Jesus Christ, observed primarily on December 25 as a religious and cultural celebration among billions of people around the world, despite Sam saying that Jesus was likely born in the fall.
Appearances
Edit
Community content is available under
CC-BY-SA
unless otherwise noted.