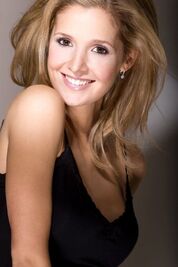 Chiara Zanni (born July 19, 1978) is a Canadian actress and voice actress, performing in movies such as BIONICLE: Mask of Light as Hahli, playing the title role in Hamtaro, Young Joe (2001) in Cyborg 009, Jubilee in X-Men: Evolution, Bon Bon in My Little Pony Tales and Nori, the mermaid in Barbie: Mermaidia. She also appears briefly in X2: X-Men United as a tour guide in the White House. Chiara is best known as Amy Ryan in the television series About a Girl, where she plays a twenty-year-old woman, and also as the voice of Hakudoushi in InuYasha and the titular character of What about Mimi?.
She portrayed Tracey in the season 2 episode "Simon Said".
Community content is available under
CC-BY-SA
unless otherwise noted.