Early life
Edit
"
You know, I've... I've been here for a very long time. And I remember many things. I remember being at a shoreline, watching a little gray fish heave itself up on the beach and an older brother saying, 'Don't step on that fish, Castiel. Big plans for that fish.' I remember the tower of Babel... all 37 feet of it, which I suppose was impressive at the time. And when it fell, they howled divine wrath. But come on. Dried dung can only be stacked so high. I remember Cain and Abel... David and Goliath... Sodom and Gomorrah.
"

— Castiel explaining his early life
in The Man Who Would Be King
Although not much is known about Castiel's early life, as an angel, he has existed for millions, if not, billions of years. He watched as the first fish emerged from the ocean. Even Metatron hinted that Castiel has "been around since scaly things crawled up out of the muck." Naomi also once said that Castiel has, as she put it, "been unstable in the past." Additionally, discussions with Uriel suggest the pair were children by Angel standards when Lucifer rebelled against Heaven and refused to bow down to humanity. While his brother was enthralled by Lucifer's power and charisma, Castiel remembered being frightened and disturbed by the rebellious Archangel.
Castiel had been stationed on Earth for at least 2,000 years while being in the garrison commanded by Anna, who became very close to him, which also contained Uriel, Balthazar, Hester, Bartholomew, Ishim, and Benjamin. Castiel was present when the world was first created, making him over several thousands years old going by the biblically time (Uriel also made reference to questioning 'How long have I served' as '6 or 7 centuries'). He also witnessed Cain killing Abel. He also watched them build the Tower of Babel, David killing Goliath, the destruction of Sodom and Gomorrah, and among other historic and Biblical events. He also knew a Prophet named Luke that authored two books in the Bible. He also witnessed the evolutionary struggle between Homo sapiens sapiens and Neanderthals and was hoping that the latter would survive because of their superior poetry (though this particular opinion and reasoning may have just been madness).
20th Century
Edit
In the 1900s, Castiel was a part of Ishim's flight and used a female vessel. In 1901 this flight of angels came to Earth to kill Akobel, an angel who had supposedly fathered a Nephilim with Lily Sunder. After Akobel was captured, Castiel listed his crimes before he was killed. Castiel and the rest of Ishim's flight then waited outside for Ishim to kill the Nephilim, unaware that he was using them to get revenge on Lily whom he was obsessed with and who didn't have a Nephilim daughter. Sometime after, Castiel joined another garrison, led by Anna Milton, whom Castiel had become close with. After her fall, Castiel became the garrison leader, which consisted of Uriel, Balthazar, and other angels.
21st Century
Edit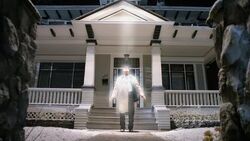 In 2008, Castiel spoke with his true vessel, Jimmy Novak, in Pontiac, Illinois. When Jimmy was watching television, Castiel's voice distorts the picture and caused him to scream in pain and his body to spasm until he finally blacked out. Later, Castiel told Jimmy to put his arm in boiling water and that he would be unharmed as a way to prove his faith. With his wife believing that he was going crazy, Jimmy asked Castiel what he wants from him and how he can help. Castiel explained that he needs to use Jimmy Novak as a vessel, to which Jimmy agreed to as long as his family is protected. After receiving consent, Castiel possessed Jimmy Novak. Before he left, Castiel was confronted by Jimmy's daughter, Claire, and told her that he is not her father.
References
Edit