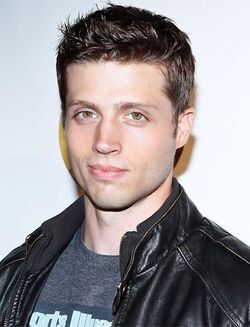 Brock Vincent Kelly (born August 17, 1985) is an American actor and model. He portrayed a teenage version of Dean Winchester, older version played by Jensen Ackles, in season 4 episode "After School Special".
Life and career
Edit
Brock was born on August 17th, 1985 in New Orleans, Louisiana. He has a slim body build. His hair is dark brown, and his eyes color is hazel.
Brock's first onscreen appearance was in the TV movie "Costume Party Capers: The Incredibles" in 2004. He landed a recurring role as Josh in 11 episodes of "Days of Our Lives" from 2005 to 2006, made his appearance as a younger version of Dean Winchester in the season 4 episode After School Special, alongside Colin Ford as a young Sam Winchester, in 2009 and starred as Zack Springer in 6 episodes of the Ravenswood TV series in 2013 and 2014. He also appeared in cinema movies such as Faded Memories (2008), Costa Rican Summer (2010), and Pitch Perfect (2012).
Brock also worked as a model for LA Models.
Conventions
Edit
Even if Brock Kelly starred in a single episode only, he was present on various Supernatural Conventions such as Salute To Supernatural or at Supernatural panels held at other conventions.
Salute To Supernatural: Vancouver and Chicago (2010), San Francisco, Los Angeles, Nashville, New Jersey, and Boston (2011), Las Vegas (2016)
Asylum 6 in Birmingham, UK (2011)
Asylum Europe 2 in Mannheim, Germany (2011)
Jus In Bello in Rome, Italy (2012 and 2013)
Filmography
Edit
| Year | Title | Type | Role | Remarks |
| --- | --- | --- | --- | --- |
| 2004 | Costume Party Capers: The Incredibles | TV movie | Teddy | |
| 2004 | The Young and The Restless | TV series | Sam | 1 episode |
| 2005-2006 | Days of our Lives | TV series | Josh | 11 episodes |
| 2006 | The O.C. | TV series | Trevor Knightley | 1 episode |
| 2007 | Viva Laughlin | TV series | Nate | 2 episodes |
| 2007 | The Suite Life of Zack and Cody | TV series | Ron | 1 episode |
| 2008 | Faded Memories | cinema film | Lucas | |
| 2009 | First Strike | cinema film | Chris | |
| 2009 | Supernatural | TV series | young Dean Winchester | 1 episode |
| 2009 | Portal | Video | Armand | |
| 2009 | Beyond The Break | TV series | Ethan | 2 episodes |
| 2010 | Costa Rican Summer | cinema film | Kyle | |
| 2010 | No Ordinary Family | TV series | Mike Clemmons | 1 episode |
| 2011 | Born To Race | Video | Kyle | |
| 2012 | Pitch Perfect | cinema film | Howie | |
| 2013 | Diary of a Teenage Nobody | TV series | Jared Tamblin | 1 episode |
| 2014 | White Dwarf | cinema film | Brock | |
| 2013-2014 | Ravenswood | TV series | Zack Springer | 11 episodes |
| 2014 | 10.0 Earthquake | cinema film | Derrick | |
| 2015 | American Beach House | cinema film | Guy | |
| 2016 | Swedish Dicks | TV series | Steve | 1 episode |
| 2016 | Good Girls Revolt | TV series | Michael | 2 episodes |
→ see also Brock Kelly/Gallery#Images and Category:Images of Brock Kelly
→ see also Brock Kelly/Gallery#Videos
External Links
Edit