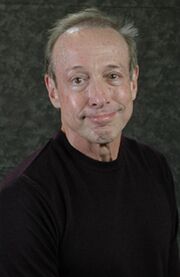 Brad Buckner is a writer and executive producer for the series Supernatural. Buckner and his writing partner, Eugenie Ross-Leming were part of the show's original writing team, however they departed after Season 1. Beginning with Season 7, Buckner and Leming returned to their writing positions on Supernatural. Both later became consulting producers in Season 8, co-executive producers in Season 9 and executive producers in Season 12.
"
I love the Angel, Demon thing, because the I think the politics of the Angels in Heaven and Hell are just so interesting. Lucifer is one of my favorites because I think he's so complicated and interesting. I don't think this is someone who gets up in the morning and thinks 'How can I do evil today?' I think he actually has a point-of-view. If you sat him down, he would explain to you why he was misunderstood and that he's really trying to accomplish a good thing.
"

— Brad Buckner on his favorites to write

[1]
Buckner has previously written episodes of Scarecrow and Mrs. King, Beggars and Choosers and Lois & Clark: The New Adventures of Superman.
References
Edit
External Link
Edit