There are rituals for summoning angels, not unlike demon summoning rituals. However, angel summoning rituals appear less commonly than their demonic counterparts. There are also rituals for summoning an archangel.
As with demon summoning rituals, there are many variations, some simpler or more complex than others.
Procedure
Summoning an Archangel
Summoning an archangel requires an enochian chant to be recited. Other requirements appear to vary.
In Free To Be You and Me, Castiel performed a summoning ritual to summon Raphael. Castiel performed this on Donnie, Raphael's original vessel. Although used on an archangel, Castiel described the method somewhat similar to dialing to access an 'open phone line' between a 'vessel and his angel'. This could mean that it could work on regular angels as well.
When summoning Raphael, Castiel uses a simple ritual. An Enochian incantation to summon Raphael later recited:
"Rah ah gah ee oh es"
"Vee nu nohno kee ah seh peh teh poh ah ma lah deh zod"
In Point of No Return, however, Zachariah uses different Enochian incantation to summon Michael to Earth. Strangely, Zachariah just simply reciting the spell to summon Michael, and no any form of ritual was held. An Enochian incantation to summon Michael is:
"Zod ee reh doh noh koh ah beh rah ma geh nah zod peh sah geh"
In Hell's Angel, Dean summoned Lucifer using various ingredients and an incantation which he read from a scroll. This summoning ritual allowed Lucifer to receive messages from Dean, such as the promise of a Hand of God.
Summoning an Angel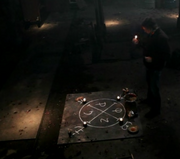 A bowl or dish filled with various materials, most of them akin to leaves, herbs or petals set before a circular sigil. The sigil itself is separated by four lines into four areas or quadrants. Each quadrant contains a different enochian symbol or letter.
Outside the circle, four other enochian symbols are written. Four lit candles are placed atop the four quadrants, and four other objects are placed at the farthest points outside the circle. A trinket placed near the dish is also required. To complete the ritual, the summoner must set the materials in the dish on fire. Once the materials are lit, the angel appears instantaneously in the immediate vicinity. Unlike demon summoning, the ritual to summon angels did not require an incantation.
Appearances
Alton Morehead was an employee of the British Men of Letters.
Background
Alton is a British Men of Letters operative assigned to work in America. According to Mick Davies, Alton is in charge of "weapons development, spell work, that sort of thing."
Alton is first seen at the British Men of Letters compound with fellow operatives Mick and Serena Colman, and three recently recruited hunters whom Mick introduce as Sam Winchester, Mary Winchester, and Pierce Moncrieff.
Alton joins Serena in explaining Project V, an operation intent on wiping out all of America's vampires. Alton explains that although vampires appear to hunt alone or in small nests, they are all connected to one another, from the lowest drone all the way up the chain to the top, meaning the Alpha. They learn vampire secrets by spying on each nest, knowing that the vampires tend to trade information, as well as victims.
Their latest target, a nest at the More Rest Hotel is set to be killed by an AVD, which Alton explains is an Anti-Vamp Device. When asked if there are any questions about the operation, Sam regards Alton as one of the smart ones.
Trouble ensues when their targeted nest ends up attacking them at the compound. Sam manages to have one of the vampires captured and taken in for interrogation. As the other vampires surround the building, this vampire reveals that his father, the Alpha Vampire, told him and his nest where to find the compound. This horrifies the group, whose intel confirmed that the Alpha was far, far away, and has been for years.
Mick decides to use the Colt and Sam gives him the instructions on how to make the bullets, which the British Men of Letters did not know how to make themselves. While Sam, Mary and Pierce go deal with the vampires heading for the conference room, Alton helps Mick create the bullets. Suddenly, Pierce returns demanding entrance back in and Alton unlocks the door for him.
Alton asks Pierce what happened, and Pierce simply tells the trio that it's really bad outside. Just then, the Alpha Vampire himself appears behind Alton and stabs him through the chest using his claws, killing him.
Appearances
Trivia